Avengers: Infinity War
(PG-13)
Rated for intense sequences of sci-fi violence and action throughout, language and some crude references

Robert Downey Jr., Chris Evans
- 156 min.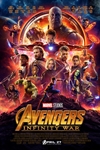 An unprecedented cinematic journey ten years in the making and spanning the entire Marvel Cinematic Universe, Marvel Studios' "Avengers: Infinity War" brings to the screen the ultimate, deadliest showdown of all time. The Avengers and their Super Hero allies must be willing to sacrifice all in an attempt to defeat the powerful Thanos before his blitz of devastation and ruin puts an end to the universe.
Trailer
---
Overboard
(PG-13)
Rated for suggestive material, partial nudity and some language

Eugenio Derbez, Anna Faris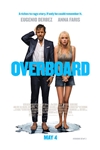 A spoiled, wealthy yacht owner is thrown overboard and becomes the target of revenge from his mistreated employee.
Trailer
---
Tully
(R)
Rated for language and some sexuality/nudity

Charlize Theron, Mackenzie Davis
- 94 min.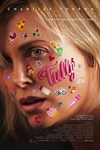 Marlo [Academy Award winner Charlize Theron], a mother of three including a newborn, is gifted a night nanny by her brother [Mark Duplass]. Hesitant to the extravagance at first, Marlo comes to form a unique bond with the thoughtful, surprising, and sometimes challenging young nanny named Tully.
Trailer
---
Breaking In
(PG-13)
Rated for violence, menace, bloody images, sexual references, and brief strong language

Gabrielle Union, Billy Burke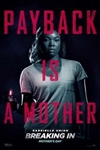 Next Mother's Day, Gabrielle Union stars as a woman who will stop at nothing to rescue her two children being held hostage in a house designed with impenetrable security. No trap, no trick and especially no man inside can match a mother with a mission when she is determined on BREAKING IN.
Trailer
---
Life of the Party
(PG-13)
Rated for sexual material, drug content and partying

Melissa McCarthy, Gillian Jacobs
- 105 min.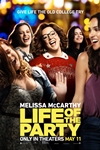 When her husband suddenly dumps her, longtime dedicated housewife Deanna (McCarthy) turns regret into re-set by going back to college…landing in the same class and school as her daughter, who's not entirely sold on the idea. Plunging headlong into the campus experience, the increasingly outspoken Deanna—now Dee Rock—embraces freedom, fun and frat boys on her own terms, finding her true self in a senior year no one ever expected.
Trailer
---

Box Office Results
For weekend of 4/15/2018
Rank
Title
Weekend Gross
Cumulative Gross
Weeks In Release
1
Rampage
$34,500,000
$34,500,000
1
2
A Quiet Place
$32,600,000
$99,635,885
2
3
Blumhouse's Truth or Dare
$19,080,000
$19,080,000
1
4
Ready Player One
$11,205,000
$114,607,798
3
5
Blockers
$10,295,000
$36,927,670
2
6
Black Panther
$5,342,000
$673,797,522
9
7
Isle of Dogs
$5,000,000
$18,450,864
4
8
I Can Only Imagine
$3,837,220
$74,988,485
5
9
Tyler Perry's Acrimony
$3,700,000
$37,875,477
3
10
Chappaquiddick
$3,025,000
$11,006,383
2

I Feel Pretty is a comedy from writer/directors Abby Kohn and Marc Silverstein and stars Amy Schumer. The plot revolves around Schumer's main character discovering confidence after an accident changes the way she sees herself — literally. Kohn and Silverstein co-wrote the screenplay for another romantic comedy movie in 2009. Do you know the movie?


After 17 years, the Super Troopers are back for Super Troopers 2. The sequel features the same writer/director as well as much of the original cast. New cast member Rob Lowe plays an eccentric rival to the troopers. Do you know the name of his character from the TV series Parks and Recreation?


Rampage is a monster movie loosely based on the video game series of the same name. Director Brad Peyton and star Dwayne Johnson team up for the third time for this action, sci-fi romp. Can you name the disaster movie they made together three years ago?

Answer: San Andreas (2015)


Blumhouse's Truth or Dare is a horror movie in which the harmless game, played amongst a group of teenagers, turns deadly. This is the second feature by Blumhouse to be released on Friday the 13th. Can you name the slasher flick from last year that was also released on this superstitious day?

Answer: Happy Death Day (2017)