Atomic Blonde
(R)
Rated for sequences of strong violence, language throughout, and some sexuality/nudity

James McAvoy, Charlize Theron
- 115 min.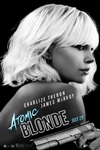 Secret Intelligence Service Agent Lorraine Broughton is sent alone to Berlin to deliver a priceless dossier. She partners with embedded station chief David Percival to navigate her way through the deadliest game of spies.
Trailer
---
The Emoji Movie
(PG)
Rated for rude humor

Anna Faris, T.J. Miller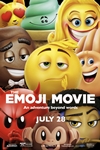 Hidden within the messaging app is Textopolis, a bustling city where all your favorite emojis live, hoping to be selected by the phone's user. In this world, each emoji has only one facial expression - except for Gene, an exuberant emoji who was born without a filter and is bursting with multiple expressions. Determined to become "normal" like the other emojis, Gene enlists the help of his handy best friend Hi-5 and the famous code breaker emoji Jailbreak. Together, they embark on an epic "app-venture" through the apps on the phone, each its own wild and fun world, to find the Code that will fix Gene. But when a greater danger threatens the phone, the fate of all emojis depends on these three unlikely friends who must save their world before it's deleted forever.
Trailer
---
The Dark Tower
Idris Elba, Matthew McConaughey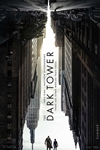 The last Gunslinger, Roland Deschain, has been locked in an eternal battle with Walter O'Dim, also known as the Man in Black, determined to prevent him from toppling the Dark Tower, which holds the universe together.
Trailer
---
Detroit
(R)
Rated for strong violence and pervasive language

John Boyega, Will Poulter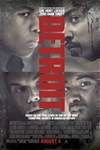 DETROIT tells the gripping story of one of the darkest moments during the civil unrest that rocked Detroit in the summer of '67.
Trailer
---
Annabelle: Creation
(R)
Rated for horror violence and terror

Stephanie Sigman, Talitha Bateman
- 109 min.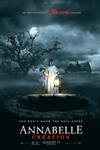 Several years after the tragic death of their little girl, a dollmaker and his wife welcome a nun and several girls from a shuttered orphanage into their home, soon becoming the target of the dollmaker's possessed creation, Annabelle.
Trailer
---

Box Office Results
For weekend of 7/16/2017
Rank
Title
Weekend Gross
Cumulative Gross
Weeks In Release
1
War for the Planet of the Apes
$56,500,000
$56,500,000
1
2
Spider-Man: Homecoming
$45,200,000
$208,270,314
2
3
Despicable Me 3
$18,947,840
$187,989,990
3
4
Baby Driver
$8,750,000
$73,151,857
3
5
The Big Sick
$7,600,000
$16,036,824
4
6
Wonder Woman
$6,885,000
$380,686,078
7
7
Wish Upon
$5,586,748
$5,586,748
1
8
Cars 3
$3,167,000
$140,031,500
5
9
Transformers: The Last Knight
$2,780,000
$124,888,619
4
10
The House
$1,795,000
$23,129,558
3

Dunkirk is a historical fiction based on the events of the Dunkirk evacuation during World War II. The film is written and directed by Christopher Nolan with the return of many of his frequent collaborators. On such collaborator is actor Tom Hardy, who plays a pilot in this ensemble film. Can you name the other two movies that Nolan has made with Hardy?


Valerian and the City of a Thousand Planets is an sci-fi adaptation of a French comic series called Valérian and Laureline. Luc Besson takes on the double role of writer and director for this adaptation. Besson is known for his sci-fi hit The Fifth Element (1997), but can you name the action movies starring Liam Neeson that Besson wrote?


War for the Planet of the Apes is the third film in the Planet of the Apes prequel trilogy. Ape leader Caesar has appeared in all three films and is played by Andy Serkis. Can you name the Peter Jackson directed feature in which Serkis is another intelligent primate?

Answer: King Kong (2005)


Wish Upon is a new horror film about a teenager's discovery of a wish-granting box that has deadly consequences. Young actress Joey King is the main character in this movie, which is her third horror film. Do you know the horror movie she co-starred in with Vera Farmiga and Patrick Wilson?

Answer: The Conjuring (2013)