*Not all movies are available at all locations, please select your preferred location (on the left) to view current movies and show times.

Guardians of the Galaxy Vol. 2
(PG-13)
Rated for sequences of sci-fi action and violence, language, and brief suggestive content

Chris Pratt, Zoe Saldana
- 137 min.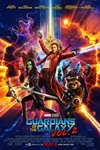 Peter Quill and his team search for his long-lost father in this sequel to the hit 2014 sci-fi adventure film.
Trailer
---
King Arthur: Legend of the Sword
(PG-13)
Rated for sequences of violence and action, some suggestive content and brief strong language

Charlie Hunnam, Astrid Bergès-Frisbey
- 126 min.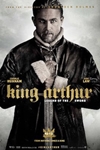 When the child Arthur's father is murdered, Vortigern , Arthur's uncle, seizes the crown. But once he pulls the sword from the stone, his life is turned upside down and he is forced to acknowledge his true legacy... whether he likes it or not.
Trailer
---
Snatched
Amy Schumer, Goldie Hawn
- 91 min.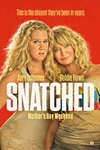 After her boyfriend dumps her on the eve of their exotic vacation, impetuous dreamer Emily Middleton persuades her ultra-cautious mother, Linda to travel with her to paradise. Polar opposites, Emily and Linda realize that working through their differences as mother and daughter - in unpredictable, hilarious fashion - is the only way to escape the wildly outrageous jungle adventure they have fallen into.
Trailer
---
Lowriders
(PG-13)
Rated for language, some violence, sensuality, thematic elements and brief drug use

Melissa Benoist, Eva Longoria
- 99 min.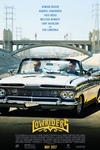 Trailer
---
Alien: Covenant
Michael Fassbender, Katherine Waterston
- 123 min.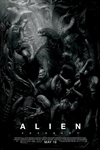 The crew of the colony ship Covenant discovers what they think is an uncharted paradise, but is actually a dark, dangerous world -- whose sole inhabitant is the "synthetic" David, survivor of the doomed Prometheus expedition.
Trailer
---

Box Office Results
For weekend of 4/23/2017
Rank
Title
Weekend Gross
Cumulative Gross
Weeks In Release
1
The Fate of the Furious
$38,682,095
$163,578,315
2
2
The Boss Baby
$12,750,000
$136,991,870
4
3
Beauty and the Beast
$9,973,000
$471,097,384
6
4
Born in China
$5,147,000
$5,147,000
1
5
Going in Style
$5,005,000
$31,765,843
3
6
Smurfs: The Lost Village
$4,850,000
$33,387,985
3
7
Unforgettable
$4,805,000
$4,805,000
1
8
Gifted
$4,500,000
$10,714,792
3
9
The Promise
$4,064,860
$4,064,860
1
10
The Lost City of Z
$2,147,379
$2,296,792
2

The Circle is a thriller starring Emma Watson as a young woman who gets the job of a lifetime at a tech company, only to discover her dream job might be more nefarious than she believed. Tom Hanks plays the founder of the tech company in this adaptation of the Dave Eggers novel of the same name. This is the second time that Hanks has starred in an Eggers adaptation. Do you know the first?


How to Be a Latin Lover is a comedy about a long-time Don Juan named Maximo, who must move in with his sister when he ends up broke and divorced. Salma Hayek plays Maximo's sensible sister in this movie, but last year she took a comedic, animated role in a raunchy Seth Rogen comedy. Do you know this film?


Unforgettable is a thriller about a disturbed woman's plan for revenge against her ex-husband's new wife. Katherine Heigl and Rosario Dawson play ex-wife and new wife respectively in this cat-and-mouse chase. Can you name the movie Dawson co-starred in which she plays the miserable wife of Hades, god of the underworld?

Answer: Percy Jackson & The Olympians: The Lightning Thief (2010)


The Promise is a historical drama that follows a love triangle caught in the midst of the Armenian Genocide. The three leads are Christian Bale, Oscar Isaac, and Charlotte Le Bon who fight for survival. Bale is no stranger to making films about historical atrocities. Can you name the movie he starred in from 2011 about the Nanking Massacre?

Answer: The Flowers of War (2011)