12 Strong
(R)
Rated for war violence and language throughout

Chris Hemsworth, Michael Shannon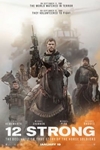 Set in the harrowing days following 9/11, a U.S. Special Forces team, led by their new Captain, Mitch Nelson, is chosen to be the first U.S. troops sent into Afghanistan for an extremely dangerous mission. There, they must convince Northern Alliance General Dostum to join forces with them to fight their common adversary: the Taliban and their Al Qaeda allies.
Trailer
---
Den of Thieves
(R)
Rated for violence, language and some sexuality/nudity

Gerard Butler, Pablo Schreiber
- 140 min.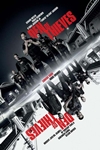 DEN OF THIEVES is a gritty Los Angeles crime saga which follows the intersecting and often personally connected lives of an elite unit of the LA County Sheriff's Dept. and the state's most successful bank robbery crew as the outlaws plan a seemingly impossible heist on the Federal Reserve Bank of downtown Los Angeles.
Trailer
---
Maze Runner: The Death Cure
(PG-13)
Rated for intense sequences of sci-fi violence and action, language, and some thematic elements

Dylan O'Brien, Kaya Scodelario
- 120 min.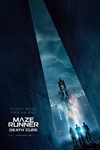 In the epic finale to the Maze Runner saga, Thomas leads his group of escaped Gladers on their final and most dangerous mission yet. To save their friends, they must break into the legendary Last City, a WCKD-controlled labyrinth that may turn out to be the deadliest maze of all. Anyone who makes it out alive will get answers to the questions the Gladers have been asking since they first arrived in the maze.
Trailer
---
Winchester
(PG-13)
Rated for violence, disturbing images, drug content, some sexual material and thematic elements

Helen Mirren, Jason Clarke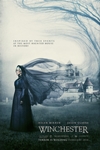 Inspired by true events. On an isolated stretch of land 50 miles outside of San Francisco sits the most haunted house in the world. Built by Sarah Winchester (Academy Award®-winner Helen Mirren), heiress to the Winchester fortune, it is a house that knows no end. Constructed in an incessant twenty-four hour a day, seven day a week mania for decades, it stands seven stories tall and contains hundreds of rooms. To the outsider it looks like a monstrous monument to a disturbed woman's madness. But Sarah is not building for herself, for her niece (Sarah Snook) or for the brilliant Doctor Eric Price (Jason Clarke) whom she has summoned to the house. She is building a prison, an asylum for hundreds of vengeful ghosts, and the most terrifying among them have a score to settle with the Winchesters.
Trailer
---
Fifty Shades Freed
(R)
Rated for strong sexual content, nudity, and language

Dakota Johnson, Jamie Dornan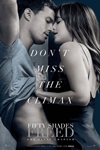 Christian and Anastasia have become a couple, but Christian's past is coming back to haunt Anastasia.
Trailer
---

Box Office Results
For weekend of 1/7/2018
Rank
Title
Weekend Gross
Cumulative Gross
Weeks In Release
1
Jumanji: Welcome to the Jungle
$36,000,000
$244,372,666
3
2
Insidious: The Last Key
$29,265,000
$29,265,000
1
3
Star Wars: The Last Jedi
$23,551,000
$572,513,602
4
4
The Greatest Showman
$13,800,000
$75,904,372
3
5
Pitch Perfect 3
$10,225,000
$85,984,090
3
6
Ferdinand
$7,730,000
$70,499,118
4
7
Molly's Game
$7,000,000
$14,216,560
2
8
Darkest Hour
$6,355,000
$28,393,107
7
9
Coco
$5,539,000
$192,081,961
7
10
All the Money in the World
$3,550,000
$20,131,909
2

Paddington 2 is the sequel to the beloved children's film based on the book series by Michael Bond. This second film features the return of most of the cast, including the eccentric Mrs. Bird played by Julie Walters. Can you name her character in another fantasy movie franchise based on a popular book series?


Steven Spielberg's latest film is The Post - a film about the Washington Post's decision to publish the Pentagon Papers. Meryl Streep stars as publisher Kay Graham, along with a star-studded cast. Tracy Letts appears in this film alongside Streep, but can you name the film he wrote which stars Streep from 2013?


Insidious: The Last Key is set to be the final film in the Insidious horror film franchise, with "scream queen" Lin Shaye leading the cast. Shaye is known for her many roles in horror films, but can you name the action movie she appeared in alongside Samuel L. Jackson which centers on a doomed flight?

Answer: Snakes on a Plane (2006)


All the Money in the World is a drama based on the real kidnapping of John Paul Getty III and the subsequent fight to get his ransom paid for by his grandfather, J. Paul Getty. Christopher Plummer plays cantankerous J. Paul Getty in this film, but do you know the 2002 Charles Dickens movie adaptation in which he plays a rich and horrid uncle?

Answer: Nicholas Nickleby (2002)